Newest News:
I'm travelling today. I have been in upstate New York for my mother's 80th birthday party. So many places to visit and family to see in four days! I have a few pictures on my Twitter: @conniecockrell, and on my Facebook: ConniesRandomThoughts, if you'd like to see.
A new post will be up on the 30th. See you then.
Giveaways:
The newest giveaway is called For the Love of Books, Valentines Giveaway. The link is https://conniesrandomthoughts.com/giveaways-and-prizes/. Click on the Rafflecopter link. This is a short giveaway because we're lining up one for St. Patrick's Day. So get in on the opportunity to win $135 in Paypal cash plus prizes from over 40 authors, that's over 80 prizes! Hurry!
Shout Out: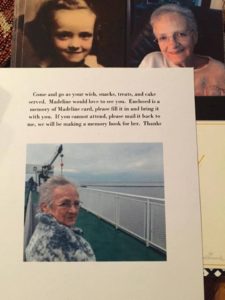 This week's shout out is for my mom! Hi mom!
Where Will I Be?
No appearances in the short-range future. Check my website, https://conniesrandomthoughts.com/where-will-i-be/ for my next engagements. I have contacted both the Phoenix ComiCon (http://www.phoenixcomicon.com/) and the Tucson ComiCon (https://www.facebook.com/TucsonComicCon/) for information about attending their events. It's still early, they're not working yet. I'll keep you posted.
Newsletter Sign Up:
Click here to sign up for my newsletter. I've put sign-up prizes on both the regular and the Brown Rain newsletter sign-ups. That's right. If you sign up for my newsletter you get a free story from me. Be prepared for fun and contests! Click on the video link for a short video from me. Hear what I'm working on. Join my "A" Team to be the first to read my books and hear what new books are coming.
Newest Book Release: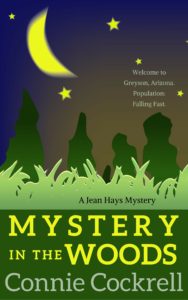 Mystery in the Woods released on December 24th! I'm pretty excited about it. You can buy it and my other books at: Apple, Amazon, Barnes and Noble, Kobo, and Smashwords, today! You can also see all my books on https://conniesrandomthoughts.com/my-books-and-other-published-work/. If you've read any of my books, please drop a short, honest, review on the site where you bought it or on Goodreads. It's critical to help me promote the books to other readers. Thanks in advance.
Share this:
Share this: