Newest News:
Today I finished my taxes and got them in the mail. Yay! It's so stressful but it's done for another year.
In other news, the husband and I received our 2nd shot of Moderna vaccine on Saturday. Both of us felt run down and tired on Sunday and by Sunday evening, my injection site was swollen, red and hot. By this morning, we both felt much better but my injection site was still swollen, red, but less hot. I put an ice pack on it to relieve the "heat" and maybe the swelling, but who knows. I also took some aspirin; I'll probably be all better by tomorrow.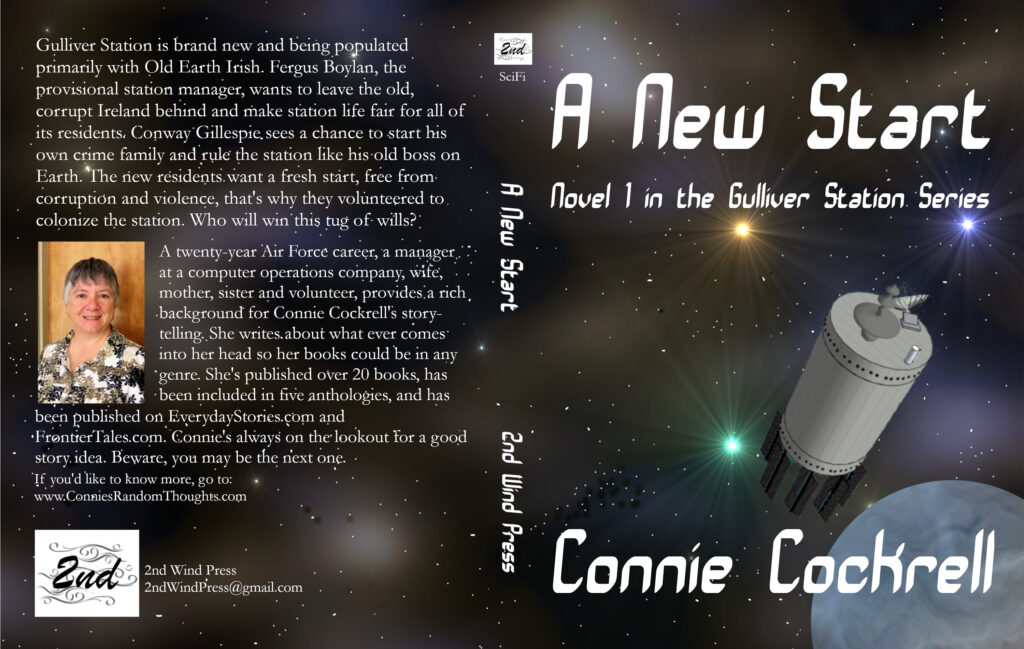 In writing news, I'm still working on the Gulliver Station first book cover. So, here's another apology to anyone looking to buy A New Start. I had to unpublish it to do this work and I am so sorry about the delay.
I mentioned last week that I tried a 2nd batch of bread using paleo flour. It didn't turn out either. Way too dense and not really baked through. So I put the starter in the fridge and when we went shopping got some regular, all purpose gluten-free flour. My starter is now out of the fridge, had a feeding, and I'll try a batch of bread with the gluten-free flour this afternoon.
Please be careful out there. Weather can turn nasty, accidents can happen, illness can overtake us. Till we can meet in person, stay at home when you can and wear a mask when you go out.
Giveaways:
The St. Patrick's Day giveaway is running but there are only a few days left. There are 24 prizes and a $60 Paypal Cash Grand Prize. Check out the link at https://conniesrandomthoughts.com/giveaways-and-prizes/ to enter.
Where will I Be?
On May 13th at 2pm Arizona time, I'll be on the podcast with Laurie Fagan on her show, AZ Creates. It's a lovely podcast and as soon as I have the link for my interview, I'll put it up. In the meantime, enjoy her show at https://www.youtube.com/watch?v=teajmtQ4-90&feature=youtu.be. Note, Karen Landau is a mystery author right here in my town! How great is that!
Newsletter Sign Up:
Click here to sign up for my newsletter. I've put sign-up gifts on the regular and the SciFi/Fantasy and the Cozy Mystery newsletter sign-ups. That's right. If you sign up for my newsletter you get a free story from me. Be prepared for fun and contests! Click on the video link for a short video from me. Hear what I'm working on. Join my "A" Team to be the first to read my books and hear what new books are coming. Don't forget to follow my blog, too. Different material goes in the blog as in the newsletter. You can share both, so spread the word!
Newest Releases:
Creature in the Night, a short Halloween, Winter Solstice, Christmas, Fantasy story has been published. It is up on Amazon, in Kindle Unlimited or for purchase at $.99. You can also see all my books on https://conniesrandomthoughts.com/my-books-and-other-published-work/. If you've read any of my books, please drop a short, honest, review on the site where you bought it or on Goodreads or BookBub. Your review is critical to help me promote the books to other readers. Thanks in advance.
Thank you for reading my blog. Like all of the other work I do as an author, it takes time and money. If you enjoy this Monday blog and the Friday free story and the recipe, I put up on the 25th of every month, consider donating to https://www.paypal.me/ConniesRandomThought. I appreciate any donation to help support this blog.