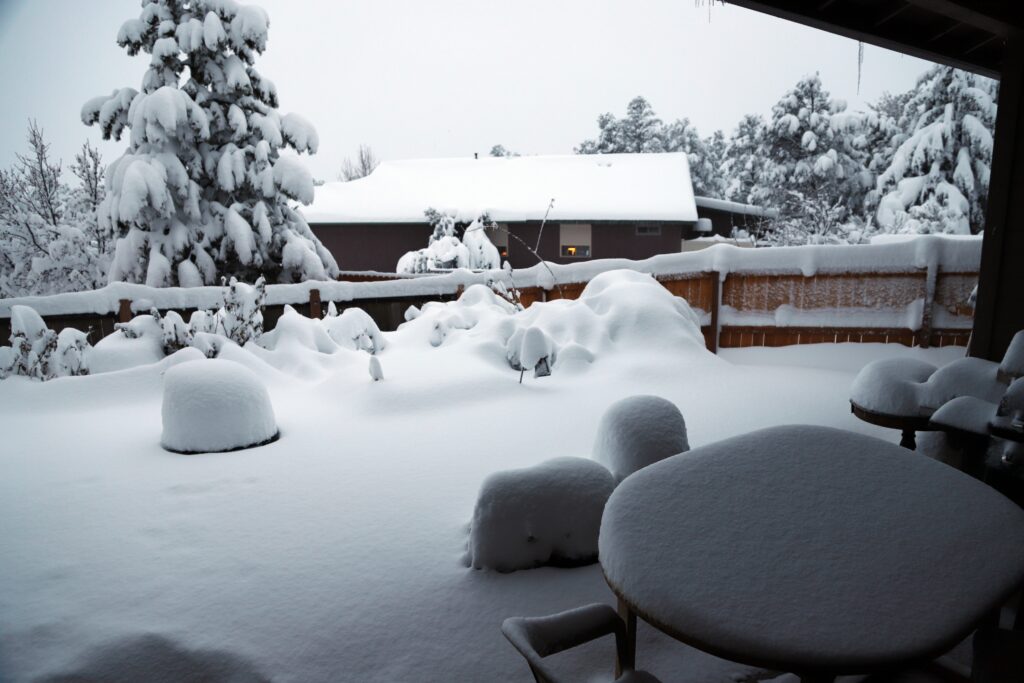 Newest News:
Last week was eventful for my neck of the woods. We received about 2 feet of snow and cold, well below freezing. Not something that usually happens around here. The town managed to get at least one lane of street plowed in most neighborhoods and kept the main arteries in town cleared. A job well done considering that they don't have many plows. At my house we were prepared and other than the fact my husband wanted to get out and about town to take snow pictures, we were content to stay home. We still have a few inches of unmelted snow, especially in the shady areas, but it will be gone in a couple of days. Temps here have been in the 40's and it will stay that way, making the snow melt pretty quickly. I do hope any adverse weather you've had is now over and everyone is safe and sound.
Coronavirus update. Arizona has divided the population up by age, disability, and essential workers, so, while I am over 65, I have not yet qualified for an immunization. Like many others, I'm still self-isolating and when I go out, I mask up. Also like many others, I'm ready to get back to my normal life: meet up with friends, lunch out, go to conferences. Already a planned conference for June is being discussed as too soon to be held. Since I was already postponed from last year, I was excited to go but we'll have to see if it will be postponed again. If you're in the same situation, stay strong. This will be over eventually and we'll be able to get out and about safely.
I saw an article I wrote for my local paper in the January 26th, edition. It was about the Martin Luther King Jr., Day of Service. I took the accompanying picture as well. You can see the article at https://www.paysonroundup.com/events/a-day-of-service-in-payson/article_428f2c99-4264-5ed9-8749-f1fbe379a101.html. Enjoy the article.
In other writing business I made a Pinterest pin about my Gulliver Station series. This was one of Pinterest's new options, a story pin. I put together a six-slide pin with a buy link. You can see it here. https://www.pinterest.com/conniecockrell Look on the Pages & Ink board for the new Gulliver Station pin. One thing with this new option, I wasn't able to add a clickable link, so I apologize for that. Otherwise, it was pretty user friendly to put the pin together. If you are a Pinterest user, give it a try yourself for a group pin, an ad (which is what mine is), a family get together or something else. I can think of a lot of ways to use this option. Have fun!
Please be careful out there. Weather can turn nasty, accidents can happen, illness can overtake us. Till we can meet in person, stay at home when you can and wear a mask when you go out.
Giveaways:
The Christmas giveaway has ended. I'll post my winners and the Grand Prize winner as soon as they're drawn.
New, is the Valentine's Day giveaway. This is a small one with just eight authors so there's a $24 Grand Prize of Paypal cash and 16 other prizes. Check out the link at https://conniesrandomthoughts.com/giveaways-and-prizes/ to enter.
Where will I Be?
I set up and completed an interview with Linda Thompson of The Authors Show on Thursday. I'm still waiting to see when the interview will air. At this point, it will be after February 7th. As soon as I know, I'll post it on my Facebook page and announce it here as well. I'll send out a newsletter too, to catch my readers who aren't following my Facebook or blog.
I have my interview with Brenda Whiteside on Wednesday March 3rd on her blog, https://brendawhiteside.com/blog
On May 13th at 2pm Arizona time, I'll be on the podcast with Laurie Fagan on her show, AZ Creates. It's a lovely podcast and as soon as I have the link for my interview, I'll put it up. In the meantime, enjoy her show at https://www.youtube.com/watch?v=teajmtQ4-90&feature=youtu.be. Note, Karen Landau is a mystery author right here in my town! How great is that!
Newsletter Sign Up:
Click here to sign up for my newsletter. I've put sign-up gifts on the regular and the SciFi/Fantasy and the Cozy Mystery newsletter sign-ups. That's right. If you sign up for my newsletter you get a free story from me. Be prepared for fun and contests! Click on the video link for a short video from me. Hear what I'm working on. Join my "A" Team to be the first to read my books and hear what new books are coming. Don't forget to follow my blog, too. Different material goes in the blog as in the newsletter. You can share both, so spread the word!
Newest Releases:
Creature in the Night, a short Halloween, Winter Solstice, Christmas, Fantasy story has been published. It is up on Amazon, in Kindle Unlimited or for purchase at $.99. You can also see all my books on https://conniesrandomthoughts.com/my-books-and-other-published-work/. If you've read any of my books, please drop a short, honest, review on the site where you bought it or on Goodreads or BookBub. Your review is critical to help me promote the books to other readers. Thanks in advance.
Thank you for reading my blog. Like all of the other work I do as an author, it takes time and money. If you enjoy this Monday blog and the Friday free story and the recipe, I put up on the 25th of every month, consider donating to https://www.paypal.me/ConniesRandomThought. I appreciate any donation to help support this blog.