See Part 4 here.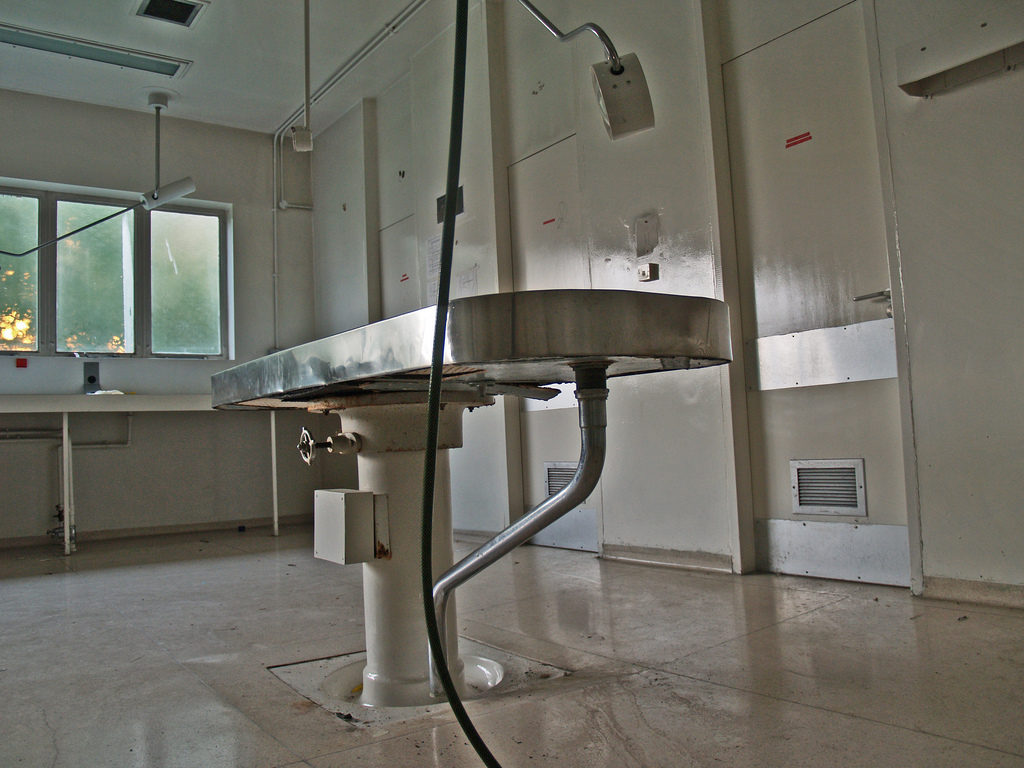 The Home, Part 5
At five till two, the staff that was going to the meeting were already in the conference room. The security guard had the door open while Ralph made a big scene getting broom, trashbags, mop, and water-filled bucket through the door into the lobby. Mike was trailing along with the buffer. Edna had a stack of buffer pads. I stood at the door with a clipboard and pen. "Okay," I said as I made check marks on the paper. I smiled at the guard, who was glaring at the four of us. "That's everything. Thank you, Austin, for holding the door for us."
Austin wasn't happy, and he grunted in what sounded like disgust. "Just get on with it," he said. "We're not supposed to have the door open this long."
"Of course. Just let them put the stuff down. Shall I hold the door while you go with them?" I smiled sweetly, doing my best not to let my excitement show. This was going to work!
He looked with alarm at the other three, steadily marching toward the front door. "Yes. Yes." He hurried across the lobby. "Hey. Stop right there."
I slipped out into the lobby and let the door close behind me, holding it so it barely snicked as the lock caught. I rushed across the floor. Ralph put the bucket down, dropped everything but the broom and shoved the handle end of it right into Austin's chest.
Edna all but threw the buffer pads to the side and Mike let go of the buffer. I really expected a horrendous scream from Austin but he was making little mewing sounds instead, eyes wide in shock. Mike and Edna ran for the front door. I grabbed Ralph by the arm. "Come on." He was standing, staring at Austin, hands still on the broom handle. "Let's go!"
He nodded, releasing the broom and took two steps then went back.
"What are you doing?"
"Keys." He dropped to his knees beside Austin, still making those noises, and searched his pants pockets. Ralph pulled car keys from the left pocket. "Got 'em." He rose and ran to the door Mike was holding open.
I don't know about the others, but outside in the sun I was nearly blind. "This way," Edna called. We followed her to the parking lot. I had my hand over my eyes, looking through the spaces between my fingers.
Ralph was holding the key fob out, pressing the unlock button until we heard the car horn of a newer model four-door sedan. To say we ran was an understatement. Ralph took the driver's seat. Edna was front passenger. Mike and I slid into the back seat. "Let's go!" Mike yelled.
That's when a klaxon began to sound. "Hurry!" I yelled. I looked out of the car windows. That noise was going to bring the neighbors. But there weren't any neighbors. There were no other buildings within sight.
The car tires squealed as Ralph floored the gas and pulled out of the parking space. Security was running out of the building.
"They're going to catch us!" Edna yelled.
"Not if I can help it." Ralph had both hands on the wheel, white knuckled.
I slid back into the seat and put on my seat belt. We were already going so fast I was scared to death. Mike saw what I was doing and did the same. "Look out!"
One of the security guards was just about at the parking lot. We just had to get past him and we'd be able to drive down the driveway and out of here.
Edna covered her eyes. It looked like we were going to hit the guard. I held my breath. At this speed, Ralph might lose control of the car if we collided with the guard. We brushed by it, it's hand out. I could hear it thump against the rear window, right in front of Mike's face.
"Hoo!" Ralph yelled. "We made it!"
We were at the edge of the parking lot, driving onto the access road. That's when I saw the shimmer. "What's that?"
"What?" Ralph asked.
Then we hit it.
I woke up in the infirmary, sick to my stomach and fuzzy-headed. Some noise was piercing my brain and I just wanted it to stop.
It was coming from my right. I turned my head to look. It was Ralph. A monitor beside him was screaming, a bright green flat line running across the middle of it. A monster came to Ralph's bedside, made a note on an electronic pad, then turned the monitor off. He pulled the sheet up over Ralph's face. He noticed me watching, then left.
Ralph dead? How? Then I remembered the car. We were out! What? I was trying to get my brain to function when Dr. Jenkins appeared at my bed. "Laurie. How are you feeling?"
"What happened?"
"You and your friends tried to escape." He took a pad from the monster I saw cover Ralph. "You had your seat belt on. That saved you." Jenkins shook his head. "Your friend Edna died on impact." He stared into my eyes. "I know you planned this. Now two of your friends are gone."
"Mike?" I asked.
"He's been transferred to another facility."
Sadness and grief came over me like a mountain crashing down on my chest. I couldn't breathe. I could feel tears leaking from the corners of my eyes and running down my face into my ears. They were all gone?
"I've called for your son."
A small bright spot of hope. "Stan is coming?" It was so hard to focus. What kind of drugs had they given me?
"He'll be here this evening." With that he handed the pad back to the other monster and left.
I drifted in and out of sleep. They brought me a tray, but I couldn't face the glop that they'd served. My stomach rolled and I pushed it away. I fell back to sleep. I woke up to voices in the hall. Was that Stan? I tried to focus on the conversation.
"What happened?"
"She led an escape."
"Escape? How'd you let that happen?"
That was Stan's voice. What did he mean by that?
"Your mother is very smart. It was a long-term plan and she and her friends carried it off beautifully. The training said humans were smart. They were right."
"How is she now?"
Ah, that was my boy.
"She's fine. She had a seat-belt on. Right now we have her heavily sedated."
"Can she talk?"
"Yes. I told her you were coming."
"Fine. Let's go in.
I tried to wake up more. Of course they'd drugged me. Monsters. I just wanted to see my son. I tried to focus as they entered the bay. There he was. He must have come straight from work. He was still in his suit and tie.
"Stan?"
"Yes, Mother."
I reached out for his hand. "Stan. Get me out of here."
"We can't do that, Mother."
I looked up at his face. Tears began to flow as I saw at his gray-green skin.
Thank you for reading The Home.