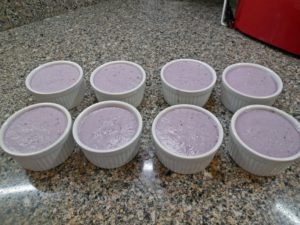 Raspberry Coconut Panna Cotta
It's summer. It's hot. The last thing you want to do is start the oven up. The first thing you want is something cool, smooth, slightly sweet, and refreshing. I've found just the thing over on www.healingfamilyeats.com/raspberry-coconut-panna-cotta/. As soon as I saw that delightfully pink, creamy-looking dessert, I just had to try it.
Unfortunately, I didn't have any raspberries. I did have frozen blueberries though, so that's what I used. This recipe is easy, and has just five ingredients, probably already in your fridge, freezer or pantry. And it makes 8 servings! Yay!
This being a paleo recipe, we're not using the usual panna cotta ingredients or methods but that's just fine with me. Give it a try. Click here for the full post.
Thanks for stopping by Chicklets in the Kitchen. Do you have a favorite dessert to serve family or guests? Please tell us about it in the comments box below if you feel so inclined.
My name is Connie Cockrell and I write SciFi, Fantasy, Mysteries, and a lot of other things and you can find links to all of my books at www.ConniesRandomThoughts.com.