Newest News:
Our new Valentine's Day rafflecopter giveaway is now live. There are book prizes, other prizes, and a Paypal Grand Prize of $70 in Paypal cash. These giveaways are a great way to try new to you authors so give them a try. Check out the details below.
Tempe FanCon is January 29th and the link is below. It is an outdoors event so safer for those worried about covid. I'm hoping for a nice day with no wind, how about you! Again, this is a great spot to find a new to you author and give them a read. See you there.
You can find my books at https://www.smashwords.com/profile/view/conniecockrell. Just scroll down and select the book or books you're interested in.
Stay tuned!
Giveaways: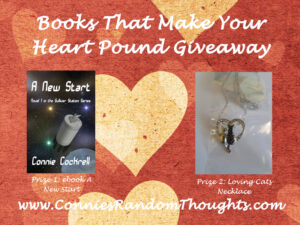 The Pumpkin Posse Authors Halloween Giveaway and the Christmas Giveaway is now closed! As soon as the winner names are drawn, I'll let you know.
In the meantime, the Valentine's Day giveaway has gone live. There are 14 authors involved this time so a lot of great books and prizes are up for grabs. Go to my link, https://conniesrandomthoughts.com/giveaways-and-prizes/ to enter.
Where will I Be?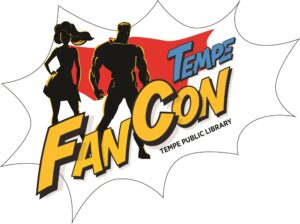 I'll be at the Tempe FanCon on January 29th from 10am until 4pm. You can find all the info about it at https://www.tempepubliclibrary.org/event-calendar/tempe-fancon. We'll be outside, in the Library plaza, so dress for the weather.
Newsletter Sign Up:
Click here to sign up for my newsletter. I've put sign-up gifts on the regular and the SciFi/Fantasy and the Cozy Mystery newsletter sign-ups. That's right. If you sign up for my newsletter you get a free story from me. Be prepared for fun and contests! Click on the video link for a short video from me. Hear what I'm working on. Join my "A" Team to be the first to read my books and hear what new books are coming. Don't forget to follow my blog, too. Different material goes in the blog as in the newsletter. You can share both, so spread the word!
Newest Releases: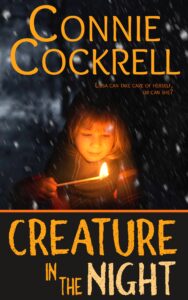 Creature in the Night, a short Halloween, Winter Solstice, Christmas, Fantasy story has been published. It is up on Amazon, in Kindle Unlimited or for purchase at $.99. You can also see all my books on http://conniesrandomthoughts.com/my-books-and-other-published-work/. If you've read any of my books, please drop a short, honest, review on the site where you bought it or on Goodreads or BookBub. Your review is critical to help me promote my books to other readers. Thanks in advance.
Thank you for reading my blog. Like all of the other work I do as an author, it takes time and money. If you enjoy this Monday blog and the Friday free story and the recipe, I put up on the 25th of every month, consider donating to https://www.paypal.me/ConniesRandomThought. I appreciate any donation to help support this blog.