Newest News:
This is the end of the fourth week for of the 2016 National Novel Writing Month. I finished with 50,129 words. My fourth Brown Rain series novelette, Tested, is done as is my already started short story, a space opera, Jania, Princess of Tania, and a short story I started in October and never finished that's currently titled, Granny, is also done. Since Granny ran shorter than I expected I also began a non-fiction book I've been working on called How to Organize a Book Fesitival. And I've won! I printed out my certificate for winning and put it in my binder with the rest of my certificates.
I've been posting pretty much daily over on Imzy.com/conniesrandomthoughts. Check it out! I've had fun moving from work to work this month, though I haven't been immune to the second week slump (was writing Tested at the time) where it seemed to me that every word I typed on the page was the worst thing ever. I haven't looked at it since I finished the draft, or the two short stories. I will in March or April. Before then I need to edit Mystery at the Book Festival and get that out into the open. I'm sure fans of Mystery at the Fair are more than ready for their next installment of Jean and Karen.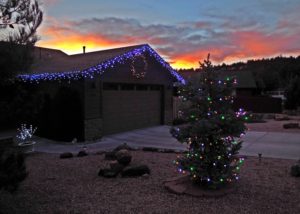 And, because it's now after Thanksgiving, it's time to think Christmas. On Sunday I pulled all of the decorations out of their storage spots in the garage. We'll do the outside lights first. Then I'll take a few days to decorate inside. I don't go overboard but it's fun and I like it. Picture is the outside from last year. It'll look pretty much the same this year.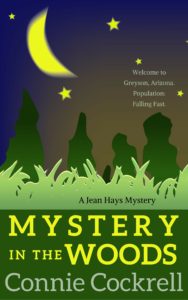 And in the good news category, I've spent the last few days since winning NaNo, editing Mystery in the Woods. I was right. I had some significant time line issues, name confusion and other problems with the book which I've straightened out. I'm doing another round of edits, correcting misspelled words and other stuff then, this week, it will be off to the editor! I'm so happy. I really want this out by the end of December. Then I'll have an Instafreebie for you in January. Stay tuned for that information.
And, for my A Team people, let me know if you'd like an Advanced Reader Copy (ARC) of Mystery in the Woods to read and review.
Giveaways:
Rudolf's Reads Holiday Giveaway is in full swing. This time, there is a $120 grand prize, lots of author prizes, what's not to like? And you get the opportunity to find new to you authors. You'll see my posts on my Facebook, and Twitter pages as well as in these posts and my newsletter. Don't miss out this time. https://conniesrandomthoughts.com/giveaways-and-prizes/. Click on the Rafflecopter link.

I'm also going to be on Facebook for an event called Writers Colony Press Holiday Indie Extravaganza. The event runs December 3rd and 4th which is THIS Saturday and Sunday. Writers Colony Press publishes anthologies for charity. The Longest Night Watch Volumes 1 and 2 are to raise money for Alzheimers. We dedicated them to Terry Pratchett and Gene Wilder. The other Anthology out is "Stardust Alway's" for Cancer research, and dedicated to Alan Rickman and David Bowie. And also, to our very dear friend Stacy Whitemire who passed away recently. She will be greatly missed. Find some new to you authors today and do a good deed for charity. Come join our extravaganza. Lots of authors will be on the event page sharing books, contests and fun. A couple of contests have already started. Readers, don't miss out. The hourly author hosts give away a lot of stuff! I'll be on the page hosting on December 4th, at 3pm Pacific, which is 4pm Arizona time and 6pm Eastern. I'll have at least one ebook to give away, a game or maybe two, and pictures to share. Mark your calendars and join me. https://www.facebook.com/events/364089737264705/ Click on the Discussion tab.
Then later in December, on the 17th, is the Brain to Books Holiday Giveaway and CyCon Sampler. Every year Brain to Books hosts a Holiday Book Giveaway. This year, our giveaway is a CyCon Sampler. Get a sneak preview of the Brain to Books Cyber Convention to be held in April. While you're here, we have a $100.00 Amazon gift card to hand out to someone along with a list of books we're giving away! Here's what's happening.
1 – Browse the Author Takeover displaying sales, giveaways, games, prizes, etc.
2 – $100.00 Amazon Gift Card Giveaway
3 – Holiday Book Giveaway
4 – Blog Hop (YA, Science Fiction, and Romance)
5 – Vote in Character Tournaments
It should be a lot of fun and who couldn't use a $100 Amazon Gift Card?
You'll find us at: https://www.facebook.com/events/624679124381085/
I've signed up to host the 5pm Eastern (3pm Arizona) time slot on December 17th. Want to have some fun, play a couple of games? Click on the link and join in the fun.
Shout Out:
I have so many people to mention it's hard to pick just one. How about Chuck Wendig? Chuck Wendig is the New York Times bestselling author of Star Wars: Aftermath, as well as the Miriam Black thrillers, the Atlanta Burns books, and the Heartland YA series, alongside other works across comics, games, film, and more. A finalist for the John W. Campbell Award for Best New Writer and the cowriter of the Emmy-nominated digital narrative Collapsus, he is also known for his popular blog, terribleminds.com, and his books about writing. He lives in Pennsylvania with his family.
You can find his work on his Amazon author page: https://www.amazon.com/Chuck-Wendig/e/B003P9JZ0O
Where Will I Be?
Do you follow me on Pinterest, twitter, Facebook, Instagram or other sites? You can find all my links here. I'm also on a new social media site, Imzy.com. You can follow me there at https://www.imzy.com/connies_random_thoughts. I've been posting daily updates on my NaNo progress there including snippets and random pictures. Enjoy.
Newsletter Sign Up:
Click here to sign up for my newsletter. I've put sign-up prizes on both the regular and the Brown Rain newsletter sign-ups. That's right. If you sign up for my newsletter you get a free story from me. Be prepared for fun and contests! Click on the video link for a short video from me. Hear what I'm working on. Join my "A" Team to be the first to read my books and hear what new books are coming.
Newest Book Release: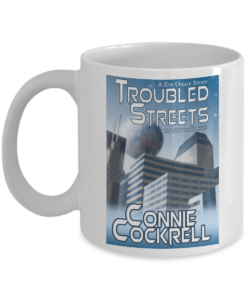 Troubled Streets released on October 15th! I'm pretty excited about it. You can buy it and my other books at: Apple, Amazon, Barnes and Noble, Kobo, and Smashwords, today! You can also see all my books on https://conniesrandomthoughts.com/my-books-and-other-published-work/. If you've read any of my books, please drop a short, honest, review on the site where you bought it or on Goodreads. It's critical to help me promote the books to other readers. Thanks in advance.