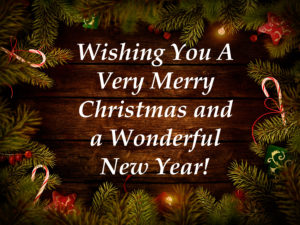 Newest News:
I want to wish everyone Merry Christmas. May today and everyday be peaceful and joyful. Hubby and I are going over to a friend's house with others for a Christmas day brunch. Later, I'll cook a duck and have a cozy meal with my spouse. What are you doing today?
The little bit of rain we had last week was it. It's been sunny and dry, and chilly, ever since. Birds flock to our bird bath. Since it freezes overnight, we go out and pour water on top of the ice so the poor things can get a drink.
On my writing, I sent a story off to Pilcrow & Dagger. www.PilcrowDagger.com. It's a great little magazine. Check it out!
I've just made a calendar for 2018. It's for sale at http://www.lulu.com/shop/connie-cockrell/my-calendar-2018/calendar/product-23462179.html. The photos were taken by my husband of places around Arizona where we live and hike. I hope you like it.
I did take a tour of the facility I told you about last week. It's perfect for my Vision Board workshop. Now to gather all of my supplies. Thank goodness for internet shopping!
Giveaways:
The Christmas Giveaway has begun. There are 70 authors giving away at least two prizes each and there's $160 in PayPal cash for the grand prize winner. Check out https://conniesrandomthoughts.com/giveaways-and-prizes/ and click on the Rafflecopter link to enter the new contest. Books, ebooks, jewelry and more is being given away. You don't want to miss out.
I have a January giveaway, Ring in the New Year with Killer Mysteries, hosted by author Anne R. Tan. http://annertan.com/ It will run from January 5th to the 21st. Lots of new to you authors are also in the giveaway. I'll post the link in January.
Shout Out:
Today it seems appropriate to give a shout out to our military, police, fire fighters, hospital workers and all of the others who are at work today supporting, protecting and defending us. May your day be peaceful.
Where Will I Be?
Check my website, https://conniesrandomthoughts.com/where-will-i-be/ for my next engagements.
My book events for the year are now completed. Enjoy your holidays and come back in January to see the 2018 line-up.
Newsletter Sign Up:
Click here to sign up for my newsletter. I've put sign-up gifts on both the regular and the Brown Rain newsletter sign-ups. That's right. If you sign up for my newsletter you get a free story from me. Be prepared for fun and contests! Click on the video link for a short video from me. Hear what I'm working on. Join my "A" Team to be the first to read my books and hear what new books are coming.
Don't forget to follow my blog, too. Different material goes in the blog as in the newsletter. You can share both, so spread the word!
Newest Book Release: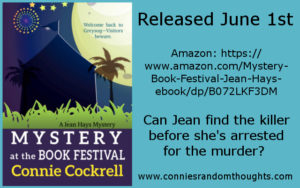 Mystery at the Book Festival released June 1st and I'm pretty excited about it. You can buy it and my other books at: Apple, Amazon, Barnes and Noble, Kobo, and Smashwords, today! You can also see all my books on https://conniesrandomthoughts.com/my-books-and-other-published-work/. If you've read any of my books, please drop a short, honest, review on the site where you bought it or on Goodreads. It's critical to help me promote the books to other readers. Thanks in advance.