Newest News:
Is it gardening season yet where you live? It certainly is here. Many of my friends have already "put in" their entire garden. I have herbs growing: sage, parsley, mint, rosemary, and oregano. The roses are in full bloom. The hubby bought a single tomato plant, a variety I've never tried here before, so we'll get it in the ground and see what happens. I also have a single, volunteer potato plant. Perhaps I can plant other stuff in that bed this year. Carrots, perhaps, or a few beets for me. The hubby doesn't care for beets. Also under consideration are zucchini and yellow squash. Last year I had one plant each of them and they overwhelmed me with squashes.
Please be careful out there. Weather can turn nasty, accidents can happen, illness can overtake us. Till we can meet in person, stay at home when you can and wear a mask when you go out.
Giveaways: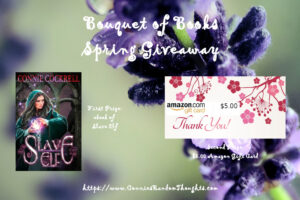 Our Spring giveaway is now live. New with this giveaway is a video graphic to show the books and prizes. How cool is this! Big thanks to Lynn Lamb, one of our administrators, for this lovely graphic. Check out the link at https://conniesrandomthoughts.com/giveaways-and-prizes/ to enter.
Where will I Be?

Artists on AZ Creates! for May
An established novelist from Payson is one of the guests in May for the final season episodes of AZ Creates!, a YouTube web series television show highlighting artists and authors. Other interviewees include creatives from Chandler, Tucson and Scottsdale.
"We are so proud to have produced 16 episodes since the first season in September 2020," says creator, producer and host Laurie Fagen of Chandler. "We have enjoyed talking with so many different artists, authors and creatives, and hope we have connected them with art patrons. We will continue to promote fine art and fine artists on our social media pages at Art Online AZ."
In Episode 15 launching May 6, multi-media artist Asi Panoutsopoulou of Chandler shows her one-of-a-kind polymer clay jewelry and discusses the transition from a hobby to a business. Born and raised in Greece, she discovered the medium while on a trip there, and says "polymer clay became a passion and a way of expressing myself."
The show also features mystery author Betty Webb of Scottsdale, who has published 17 books in two different series. Webb, a former journalist, talks about how stories she covered in her newspaper career became themes for her novels. Webb is also a popular writing instructor, a former syndicated book reviewer, and a member of National Federation of Press Women, The Authors Guild, Mystery Writers of America, and Sisters in Crime.
In Episode 16, which premieres May 27, the Creative Connection artists are actors Harold and Maedell Dixon of Tucson. Husband and wife, both have performed off Broadway, where Harold also directed. They've worked in theatre, television and films, and both are long-time Actors Equity members.
Also on that program is author Connie Cockrell of Payson, who has written 20 books, is in five anthologies and published online. Following a 20-year Air Force career, she writes in many genres, and will be discussing her cozy mystery series.
In the program's regular arts events segments, called "Something to Look Forward To," co-host and graphic designer Cathy Beard of Chandler will highlight in-person and virtual art happenings from around the state.
The featured nonprofits for Episode 15 are the Arizona and Tucson Polymer Clay Guilds. On Episode 16, the Arizona Professional Writers nonprofit will be highlighted.
The programs all close with a "Creative Quote of the Day."
Episode #15 premieres at 7 p.m. MST May 13, and episode #16 on May 27. All episodes are available on the AZ Creates! YouTube channel on demand, along with other video content.
AZ Creates! is a half-hour video web series to highlight artists, writers, dancers, musicians, film, theatre and TV creatives, and other artistic people in Arizona. Fagen, an artist and crime fiction novel writer, designed the program to connect art patrons with artists, and to work on a positive project during the COVID-19 pandemic. Fagen is resuming her work on "Bleeder," book three in her mystery series.
Sponsors for the show are Sibley's West, an Arizona and Chandler Gift Shop and Times Media.
Subscribe to the AZ Creates channel on Youtube.com at www.youtube/c/AZCreatesShow, visit the Art Online AZ Facebook and Instagram pages or email [email protected] for details.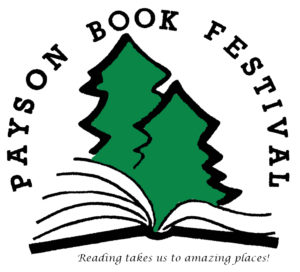 On July 17th, I'll be at the Payson Book Festival! Yes!! That's correct! The Payson Book Festival is now a GO! Details are being resolved, but you'll be able to visit us, in person, meet authors, and have some fun picking out your next books to read. See more at http://www.PaysonBookFestival.org.
Newsletter Sign Up:
Click here to sign up for my newsletter. I've put sign-up gifts on the regular and the SciFi/Fantasy and the Cozy Mystery newsletter sign-ups. That's right. If you sign up for my newsletter you get a free story from me. Be prepared for fun and contests! Click on the video link for a short video from me. Hear what I'm working on. Join my "A" Team to be the first to read my books and hear what new books are coming. Don't forget to follow my blog, too. Different material goes in the blog as in the newsletter. You can share both, so spread the word!
Newest Releases: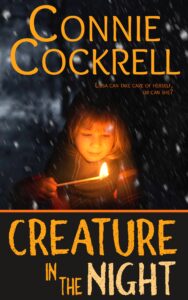 Creature in the Night, a short Halloween, Winter Solstice, Christmas, Fantasy story has been published. It is up on Amazon, in Kindle Unlimited or for purchase at $.99. You can also see all my books on https://conniesrandomthoughts.com/my-books-and-other-published-work/. If you've read any of my books, please drop a short, honest, review on the site where you bought it or on Goodreads or BookBub. Your review is critical to help me promote the books to other readers. Thanks in advance.
Thank you for reading my blog. Like all of the other work I do as an author, it takes time and money. If you enjoy this Monday blog and the Friday free story and the recipe, I put up on the 25th of every month, consider donating to https://www.paypal.me/ConniesRandomThought. I appreciate any donation to help support this blog.