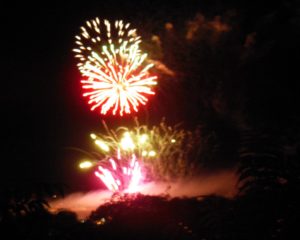 Newest News:
Fourth of July already! Did you take several days off or are you starting today and taking off through Wednesday? Since I'm retired, I don't have to take time off from work but hubby and I decided to just stay home and chill out. We'll do our usual Tuesday hike with the local hiking group for our excitement and I'll be at my town's 4th of July festival in a booth to promote the upcoming Northern Gila County Fair. I'm excited about that. It should be fun. Whatever you've decided or decide to do, stay safe and come home healthy.
See below for two new giveaways!
I had a blast at Saturday's Farmer's Market. Lots of people were interested in hearing about the book festival and many stopped to chat about my books. All in all it was a great visit but hot and breezy!
I've decided to do the next three Friday flash fiction stories on Doomsday. I did one last Friday and I'm still thinking about what to do for story number 2. What do you consider doomsday?
Giveaways:
The 2018 Authors/Bloggers Spring Giveaway at https://conniesrandomthoughts.com/giveaways-and-prizes/ has ended. As soon as the admin generates the winners, I'll let you know.
In the meantime, here's the 2018 Authors/Bloggers Summer Giveaway. https://conniesrandomthoughts.com/giveaways-and-prizes/. There's $80 as a Grand Prize Paypal Cash and 27 books and 27 prizes available to win.

Also, July is the Smashwords site's Summer/Winter Giveaway. I have books ranging from free to 25% or even 75% off. I don't usually do this so if you're interested in some discounts, this is your month! You can find a list of all of my books at https://www.smashwords.com/profile/view/conniecockrell with the discounts already marked. Enjoy!
Shout Out:
Here's a shout out to Marsha Ward, an Amazon best-selling author who writes authentic historical fiction set in 19th Century America. She is a multi-published writer, editor, workshop presenter, mentor, and consultant. Marsha has written five novels in The Owen Family Saga, another that begins the Promised Valley series; and many other works. A former journalist, Marsha is the recipient of the 2015 Whitney Lifetime Achievement Award and President of Rim Country Chapter of APW.
Marsha's latest work is Lies and Secrets. This is a 3-story collection filling in more of the Owen Family saga.
Scandalous: An Owen Family Story
Young Julianna Owen didn't think flirting with Parley Morgan at the barn raising would lead him to put his hands where they ought not to be. But even worse, her sister discovers them, and Parley abandons her, running off into the woods.
Julianna's strict father has found where she is hiding, and her world on the Colorado frontier is crashing down around her ears. She thought love and romance was only about going on picnics and holding hands, not rough kisses and hurtful pawing.
Now the consequences of her actions might be beyond what she can bear.
In the 1866 Owen Family universe, Scandalous shines a light on teen hormones run amok during a trying time in the family's story, as it ties up a loose thread from the novel, Spinster's Folly.
Review: "Be careful what you wish for; you might just get it. I love the Owen Family stories. The love of family and the adventures are made so real in Mrs. Ward's writings. Details are so vivid a reader can feel themselves there."
Broken: A Shenandoah Neighbors Story
Rida Owen didn't know married life on the Colorado frontier could be so difficult. Nothing in her Catholic upbringing prepared her for long, lonely nights when her husband, Bert, goes drinking. And womanizing. And then comes home to beat her.
Her mother-in-law thinks she's stuck up when she doesn't participate in homestead washday. Rida only wants to hide her bruises and preserve her marriage.
Then a neighbor from her past stops to say hello and reveals a secret of his own.
Broken is a Shenandoah Neighbors story that illuminates a dark corner of the Owen Family universe in 1875.
Review: "Marsha Ward writes a compelling story of strength and endurance, beautifully worded and detailed to the post Civil War era."
Bloodied Leather: A Shenandoah Neighbors Story
Isabelle Gilbert chafes against the restrictions that Victorian life puts on a young lady.
Forced to accept a betrothal to Percival Egmont, an English ex-patriot like her father, she is disturbed by his passion for prize-fighting—and other pursuits. And what if Mama spots the bruise on her cheek?
Then shared secrets perplex Isabelle even more.
A Shenandoah Neighbor story, Bloodied Leather extends the Owen Family universe into 1886.
Review: "An interesting short story with good characterization and dialogue that says more than the words alone. So worth the read."
~~~
Read the stories free on KindleUnlimited, or get your copy today before the price goes up. Link to Amazon
Learn more at http://marshaward.com The Facebook author page link is
https://www.facebook.com/authormarshaward/
https://www.amazon.com/Marsha-Ward/e/B003RB9P9Q/
Where Will I Be?
Check my website, https://conniesrandomthoughts.com/where-will-i-be/ for my future engagements.
My next event adventure is the Payson Book Festival. www.PaysonBookFestival.org. We're completing the final touches and now heavily promoting the festival. It's again at the Mazatzal Hotel and Casino ballroom. The organizer there is so wonderful to work with. At any rate, we'll have 80 authors, entertainment, children's story times (yep, more than one!) and of course the casino has great food in it's restaurants. Hope to see you there.
Newsletter Sign Up:
Click here to sign up for my newsletter. I've put sign-up gifts on the regular and the SciFi/Fantasy and the Cozy Mystery newsletter sign-ups. That's right. If you sign up for my newsletter you get a free story from me. Be prepared for fun and contests! Click on the video link for a short video from me. Hear what I'm working on. Join my "A" Team to be the first to read my books and hear what new books are coming.
Don't forget to follow my blog, too. Different material goes in the blog as in the newsletter. You can share both, so spread the word!
Newest Book Release:
Tested released January 31st and I'm pretty excited about it. You can buy it and my other books at: Apple, Amazon, Barnes and Noble, Kobo, and Smashwords, today! You can also see all my books on https://conniesrandomthoughts.com/my-books-and-other-published-work/. If you've read any of my books, please drop a short, honest, review on the site where you bought it or on Goodreads. It's critical to help me promote the books to other readers. Thanks in advance.
Thank you for reading my blog. Like all of the other work I do as an author, it takes time and money. If you enjoy this Monday blog and the Friday free story and the recipe I put up on the 25th of every month, consider donating to https://www.paypal.me/ConniesRandomThought. I appreciate any donation to help support this blog.