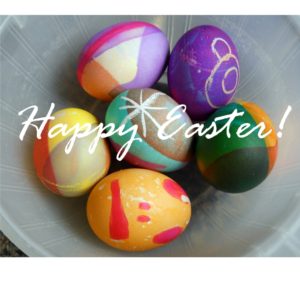 Newest News:
It's Easter Monday, and I hope everyone had a pleasant Easter Sunday. I spent time listening to the Mormon Tabernacle Choir sing Handel's Messiah. A moving piece of music for sure and of course, the Choir did an excellent job of it. I made pork shoulder in the crockpot for our dinner. The resulting bbq sandwiches were quite enjoyable. Not my usual Easter dinner but with just the two of us in the house, we didn't miss the usual ham, mashed potatoes, and sides. Our little town's police and fire departments joined together to escort the Easter Bunny around town, waving to everyone. Of course the kids really enjoyed it. I didn't see it in person, though I heard the sirens at the end of my block early this morning. Many pictures showed up on the town's Facebook page, though. I thought it was a nice gesture and surely appreciated by all the kids.
Still no issues at my house with the coronavirus. Hubby and I are social distancing, and wearing my new, homemade masks when we do have to go out in public. My daughter received the masks I sent and she and her roommate were happy to have them. She lives in California and has noticed that people out without masks are given quite the stink eye. She now feels safer. Our town's hospital has been prepping for people who may get sick. Only three cases have been confirmed here, and none of them required hospitalization. Matter of fact, one person has already recovered though still in quarantine. I do hope all of you are safe and well.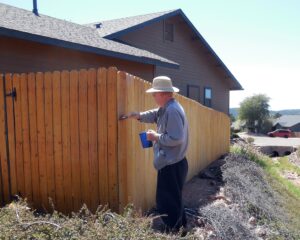 As with many people, we spend some time doing household upkeep, just to keep ourselves busy. My husband has taken on re-staining our wooden fence. You can see from the picture, our fence borders a big drainage ditch. Working so closely to the fence is tiring and he has enlisted my help. So while the last couple of days have been idle due to threat of rain, we are out there together, getting the fence done. With brushes. The slow way. But it does leave a great coat of stain on the fence so we're happy about that.
I'm looking at the last paragraph of my post and am shocked to realize I haven't released anything since last May. It's not that I don't have a lot of projects in process. I do think I have just been burnt out and to be honest, my mother's death just before New Year's last year really set me back. The unfinished works I have sitting on my hard drive have been nagging at me and I hope to get something new, anything new, out in the near future.
Have you seen people on Facebook announcing their birthday but instead of gifts, are asking people to donate to a cause? I have too and I've been intrigued. I'm past the point where I want more stuff in my house. With that in mind, I'm considering doing the donation thing. I have several options of a cause in mind. One is the National Kidney Foundation, in memory of my mom. However, with the Corona, I know our local food banks are suffering. Which do you think would be a better cause?
On the positive posting side of new work, April is National Poetry month and I've been writing a new poem daily with a group on Facebook. If you'd like a quick getaway, I also post the poems on my Facebook page, https://www.facebook.com/ConniesRandomThoughts/. They're a quick read and sometimes fun, sometimes thoughtful. You'd like to join in the poetry writing fun? Check out https://www.facebook.com/groups/178557275869627/. Tell Stephanie I invited you!
See below for cancellations and changed dates for my appearances.
Stay safe. Stay well.
Giveaways:
The spring giveaway, Spring Flings and Book Things, is now open. You can get to it here, on my Giveaways page. As soon as the winners are announced for the St. Patrick's giveaway, I'll let you know.
Where will I Be?
Pine Library, 6124 W. Randall Place, Pine AZ, Friends of the Library meeting, April 27th has been officially rescheduled. The new date for my appearance is October 26th, still at 1pm. So if you happen to be in Pine, AZ on that date, come on by. I'll have some books available for purchase.
Payson Book Festival, July 18th at the Mazatzal Hotel and Casino, Payson AZ. This event is under consideration for cancellation. We'll know more in May
CokoCon 2020, September 4 – 7th, DoubleTree by Hilton Hotel Phoenix Tempe, 2100 S Tempe, AZ. This event hasn't been cancelled yet. I'll keep you posted.
Phoenix Fan Fusion, September 25th – 27th. This event has been postponed until the end of September. Note that the event is a day shorter, starting on Friday rather than Thursday. For people who have special Thursday passes and other special tickets, check out the Fan Fusion website for details on how those will be handled.
Newsletter Sign Up:
Click here to sign up for my newsletter. I've put sign-up gifts on the regular and the SciFi/Fantasy and the Cozy Mystery newsletter sign-ups. That's right. If you sign up for my newsletter you get a free story from me. Be prepared for fun and contests! Click on the video link for a short video from me. Hear what I'm working on. Join my "A" Team to be the first to read my books and hear what new books are coming.
Don't forget to follow my blog, too. Different material goes in the blog as in the newsletter. You can share both, so spread the word!
Newest Releases:
Gold Dreams released May 13th, 2019. It is up on Amazon, Apple, Barnes and Noble, Kobo, (Direct link doesn't work, copy the URL and paste it into your browser, or go directly to Kobo.com and search for Gold Dreams, Connie Cockrell), and Smashwords. The print version is available on Amazon. You can also see all my books on https://conniesrandomthoughts.com/my-books-and-other-published-work/. If you've read any of my books, please drop a short, honest, review on the site where you bought it or on Goodreads or BookBub. Your review is critical to help me promote the books to other readers. Thanks in advance.
Thank you for reading my blog. Like all of the other work I do as an author, it takes time and money. If you enjoy this Monday blog and the Friday free story and the recipe I put up on the 25th of every month, consider donating to https://www.paypal.me/ConniesRandomThought. I appreciate any donation to help support this blog.