Newest News:
I haven't been totally idle with my writing. You may remember a series I started which I call "All About Bob". The only relationship each book has to the other is that the main, teen, character is named "Bob" in one form or another. I got the idea from a writing class prompt and the idea stuck with me for a long time. I've been writing the stories, on and off, for the last 3 years. The final of the five novelettes is nearly done. Each book deals with some sort of problem a teen may have. I'm hoping, when they're all finished, that I can get them edited, then released one after the other, one per month. The below excerpt is from It's All About Home, the last of the five books in the series.
Berta Tinker adjusted the pack on her back as she walked from the high school to the elementary school where her little brother went. She ran through the list in her head. Pick up Landon. Take him to the library and get their homework done. Be outside the library at six, that's when it closed, for dad to come by and pick them up. Go to the campsite, set up the backpacker stove and make soup for dinner. Feed herself, Landon, and dad. Clean up the mess. Hopefully dad remembered to fill the five-gallon water jug so there'd be water to wash the bowls, spoons and pot. Brush teeth. Read by lantern till bedtime.
At midnight dad would drive to the diner where mom waitressed to pick her up after she closed up the place. Everybody sleep in the car at the campground till morning. That's when mom would drive dad to his job, line cook at a different restaurant. Start the day all over again.
She was sick of it, Berta thought as she walked to the elementary school. Ever since her father had been sick and lost his job, they'd ended up living in the car. It wasn't fair, she fumed to herself. They used to have a house. She remembered her pink bedroom with the white desk and matching chair. The frilly bedspread, her toys and even her own tv and game console. Now, she jerked the pack straps in frustration. Now all she had was a sleeping bag and some personal items like her hairbrush and a plastic garbage bag of clothes.
Berta arrived at the school and waited, fingering the necklace her grandmother, mom's mom, she thought to herself, had given to her for her thirteenth birthday.
"You're getting to be a young lady now," Nana had told her when she had opened the little box. "I think you're old enough to take care of this. My grandmother gave this to me when I was thirteen."
Berta, named for her grandmother Roberta, was delighted with the gift. It was a gold initial, an R in script, on a fine gold chain. She'd had her grandmother help her put it on and had hardly had it off in the last three years.
The school dismissal bell rang. Landon came out with two other boys, in about the middle of the flood of kids. The three were laughing and gyrating around like demented things, Berta thought. She rolled her eyes. Landon was always laughing. And unlike her, could make friends anytime and anywhere.
She was glad he could, actually. This was the third town in nine months and still her parents couldn't get jobs good enough to even get them an apartment, let alone a house.
That's our introduction to Berta. What do you think? Leave your comments in the comment box below.
I've been reading different things this summer. I've just finished the Best American Science Fiction and Fantasy 2020. Loved it! First of all, there's a great introduction by Diana Gabaldon. Yes, the Outlander author! Her love of science fiction and fantasy is obvious. The stories are terrific, covering all sorts of topics from prisoners to fairytales. If you can get a copy, you should. Some great new authors in there.
Hoping everyone is able to access a covid shot, or two if needed. The delta variant of the virus is racing through my county. Hospitalizations have jumped three-fold and the majority of the people hitting the ERs are unvaccinated. We'll only beat this disease if we all work together. Please schedule your vaccination as soon as you can. The shots are still free!
Giveaways: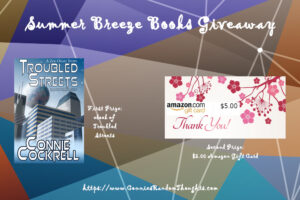 The Summer event, called the Summer Breeze Books Giveaway, is now live! There are 24 prizes and $66 as the Grand Prize in Paypal dollars. Hop on over to the page with the following link and get in on the prizes. https://conniesrandomthoughts.com/giveaways-and-prizes/ to enter.
Where will I Be?
I have no plans at present for any other in person events. Any I was thinking about joining I'm now reconsidering due to the uptick in the Covid 19 Delta variant illnesses spreading across Arizona. See you in 2022!
Newsletter Sign Up:
Click here to sign up for my newsletter. I've put sign-up gifts on the regular and the SciFi/Fantasy and the Cozy Mystery newsletter sign-ups. That's right. If you sign up for my newsletter you get a free story from me. Be prepared for fun and contests! Click on the video link for a short video from me. Hear what I'm working on. Join my "A" Team to be the first to read my books and hear what new books are coming. Don't forget to follow my blog, too. Different material goes in the blog as in the newsletter. You can share both, so spread the word!
Newest Releases: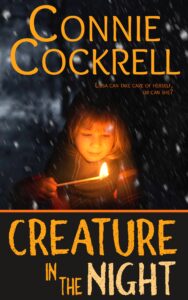 Creature in the Night, a short Halloween, Winter Solstice, Christmas, Fantasy story has been published. It is up on Amazon, in Kindle Unlimited or for purchase at $.99. You can also see all my books on https://conniesrandomthoughts.com/my-books-and-other-published-work/. If you've read any of my books, please drop a short, honest, review on the site where you bought it or on Goodreads or BookBub. Your review is critical to help me promote the books to other readers. Thanks in advance.
Thank you for reading my blog. Like all of the other work I do as an author, it takes time and money. If you enjoy this Monday blog and the Friday free story and the recipe, I put up on the 25th of every month, consider donating to https://www.paypal.me/ConniesRandomThought. I appreciate any donation to help support this blog.