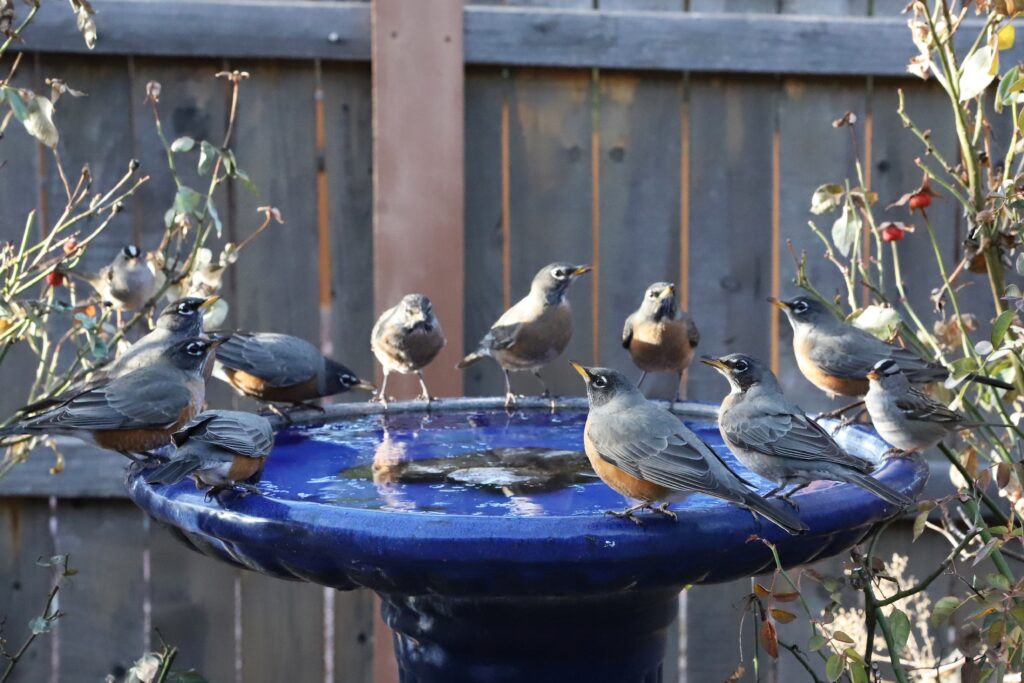 Newest News:
While much of the U.S. is getting pounded with sub-freezing weather, including sleet and snow, here in central AZ, it will remain sunny, but very cold, at least for here. We remain in a desperate drought and my little birdbath in the back yard has become a lifeline for what seems like every robin in the area. In previous years, we've had only the single, occasional robin. Now though, they're at the birdbath in record numbers. I've posted pictures of bluebirds, also rare in my yard, but I get everything, I think, now. Yesterday I saw a very small bird, who drank and flew off before I could get a picture. Sparrows, little birds of all sorts, the local resident chipmunks and squirrels visit. I've even seen insects, on warm days, flying over and landing on the rock I keep in the middle of the birdbath, to get a sip of water. I'm hoping this week's cold weather will bring some rain to relieve the local wildlife.
Writing this last week consisted of blog posts, letters to the editor, and some short work that has no home at present. I should have been working on finishing up the updates to my Gulliver Station series and working on Mystery at the Reunion. I didn't, for many reasons. They're still on my list, though, and perhaps I can kick myself into gear this week.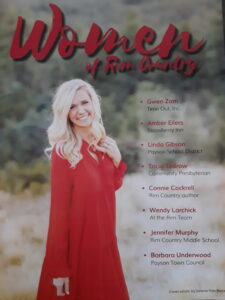 I had a big surprise last Friday. My local newspaper does periodic magazines about special interests in the area two or three times a year. In Friday's paper was their newest magazine, Women of Rim Country. To my surprise, I was one of eight featured women who are making a difference in our area. It was quite an honor to be included, to say the least. How they decided on me over all of the other fantastic and super women in the area is a wonder, but I am grateful.
I want to wish everyone a very happy Martin Luther King Jr., birthday. For the first time I've heard that this holiday is also considered a day of service. I've decided to donate some time to help feed local hungry and homeless at our area's warming shelter. What with the pandemic and the economy, a great many people in our area are in desperate straits. I hope you have found a worthy cause to spend some time on or, if this is the first time you've heard of this being a day of service, you'll consider doing something this week, or mark your calendar for next year.
Giveaways:
The Christmas giveaway is ending. I'll post my winners and the Grand Prize winner as soon as they're drawn.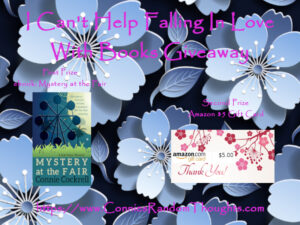 New, is the Valentine's Day giveaway. This is a small one with just eight authors so there's a $24 Grand Prize of Paypal cash and 16 other prizes. Check out the link at https://conniesrandomthoughts.com/giveaways-and-prizes/ to enter.
Where will I Be?
Unfortunately, I'm self-isolating, so right now there are no scheduled in-person events for me for now. But as I mentioned above, I have my interview with Brenda Whiteside on Wednesday March 3rd on her blog, https://brendawhiteside.com/blog
On May 13th at 2pm Arizona time, I'll be on the podcast with Laurie Fagan on her show, AZ Creates. It's a lovely podcast and as soon as I have the link, for my interview, I'll put it up. In the meantime enjoy her show at https://www.youtube.com/watch?v=teajmtQ4-90&feature=youtu.be. Note, Karen Landau is a mystery author right here in my town! How great is that!
Newsletter Sign Up:
Click here to sign up for my newsletter. I've put sign-up gifts on the regular and the SciFi/Fantasy and the Cozy Mystery newsletter sign-ups. That's right. If you sign up for my newsletter you get a free story from me. Be prepared for fun and contests! Click on the video link for a short video from me. Hear what I'm working on. Join my "A" Team to be the first to read my books and hear what new books are coming. Don't forget to follow my blog, too. Different material goes in the blog as in the newsletter. You can share both, so spread the word!
Newest Releases: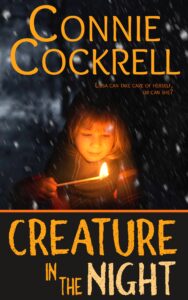 Creature in the Night, a short Halloween, Winter Solstice, Christmas, Fantasy story has been published. It is up on Amazon, in Kindle Unlimited or for purchase at $.99. You can also see all my books on https://conniesrandomthoughts.com/my-books-and-other-published-work/. If you've read any of my books, please drop a short, honest, review on the site where you bought it or on Goodreads or BookBub. Your review is critical to help me promote the books to other readers. Thanks in advance.
Thank you for reading my blog. Like all of the other work I do as an author, it takes time and money. If you enjoy this Monday blog and the Friday free story and the recipe, I put up on the 25th of every month, consider donating to https://www.paypal.me/ConniesRandomThought. I appreciate any donation to help support this blog.