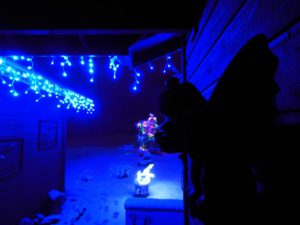 Newest News:
We had a good Christmas. It started with a light snow falling on Christmas Eve. My brother-in-law was coming over for Christmas Eve dinner. The house smelled of roast chicken and what could be more wonderful than a warm house on a cold day. Then Christmas morning was quiet, just the hubby and myself exchanging gifts while drinking hot tea. Most of the gifts were books, though my daughter sent us the cutest little bird house made to look like an old-fashioned travel trailer. Hubby and I each got each other socks, too. That's what happens after 40 years of marriage. We don't need much anymore. Christmas afternoon was spent with friends, sharing potluck dishes and enjoying the day. The snow was melting but it still covered the ponderosa pines and the distant mountains making the day look like a Christmas card. We went home fulfilled and satisfied to watch a little TV before bed. Wishing you all a very Merry Christmas and a Wonderful New Year!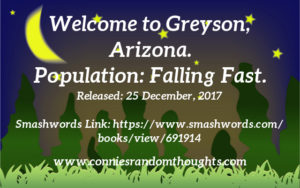 Mystery in the Woods was published on Smashwords https://www.smashwords.com/books/view/691914 on Christmas Day. It was also entered into the CreateSpace review system as well. So, if you're eager for the book, you can get it in your desired ebook format on Smashwords. It should be up on Amazon by Tuesday. You're not on my A Team? Let me know you want to be. I'll set it up. I'm also considering an Instafreebie (Mystery at the Fair is up right now!), Author Shout promo, and of course twitter and facebook announcements. I began the process of setting up a Reader's Gazette account so Mystery in the Woods may show up there. And if you've never checked it out, Bundle Rabbit has some wonderfully priced collections of books.
I have scheduled a Facebook Live for Wednesday at 3pm, Arizona time. We can talk about Jean Hays and her friend, Karen, or my SciFi books or something else. Hope to see you on there.
I'm also considering a Thunderclap. This is a simple way for people to support my book release by sending a facebook post or tweet to announce the release. It doesn't cost anything and can really get the word out. I'll keep looking into it.
Giveaways:
Rudolf's Holiday Giveaway is in full swing. This time, there is a $120 grand prize, lots of author prizes, what's not to like? And you get the opportunity to find new to you authors. You'll see my posts on my Facebook, and Twitter pages as well as in these posts and my newsletter. Don't miss out this time. https://conniesrandomthoughts.com/giveaways-and-prizes/. Click on the Rafflecopter link.
Shout Out:
This week I'd like to shout out to my friends on Four Carat Press. https://fourcaratpress.com/ We write a variety of books from Children's to Spicy Romance. Stop in and see if you can find an author new to you.
Where Will I Be?
Do you follow me on Pinterest, Twitter, Facebook, Instagram or other sites? You can find all my links here. I'm also on a new social media site, Imzy.com. You can follow me there at https://www.imzy.com/connies_random_thoughts. This is a troll free site and free to join. Enjoy.
Newsletter Sign Up:
Click here to sign up for my newsletter. I've put sign-up prizes on both the regular and the Brown Rain newsletter sign-ups. That's right. If you sign up for my newsletter you get a free story from me. Be prepared for fun and contests! Click on the video link for a short video from me. Hear what I'm working on. Join my "A" Team to be the first to read my books and hear what new books are coming.
Newest Book Release: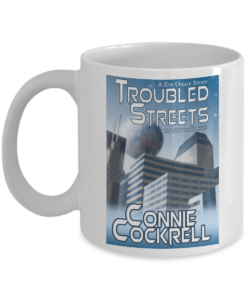 Troubled Streets released on October 15th! I'm pretty excited about it. You can buy it and my other books at: Apple, Amazon, Barnes and Noble, Kobo, and Smashwords, today! You can also see all my books on https://conniesrandomthoughts.com/my-books-and-other-published-work/. If you've read any of my books, please drop a short, honest, review on the site where you bought it or on Goodreads. It's critical to help me promote the books to other readers. Thanks in advance.