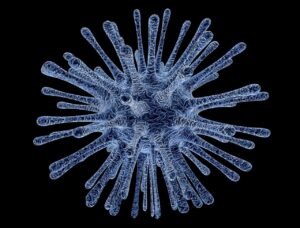 Newest News:
We're still distancing at my house. I see on the news that lots of people aren't. Even going so far as to protest about it. It's up to them, I guess. For myself, I'm going to continue to social distance. My lungs are bad enough, I don't need Covid19 to make me worse.
In a random note, I've somehow sprained my left wrist. Can hardly pick up anything of any weight. It would be nice if I knew how I managed to hurt myself but, oh well. I just have to stop using it till it heals.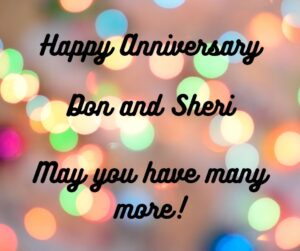 In other news, my second brother is celebrating his anniversary. He dated his now wife when they were in high school. They're celebrating at home, keeping their distance, and living the good life. She's a critical care nurse in her local hospital, yes, caring for covid patients. She described to me what it's like and that's just another reason I'm going to stay home a while longer. Kudos to her and her family for dealing with this pandemic.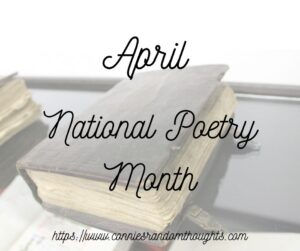 I'm still participating in April's Poetry month. I post a new poem every day on my Facebook page if you're looking for something quick and fun to read. https://www.facebook.com/ConniesRandomThoughts/ You can participate if you like. I sometimes give links and other hints for writing your own poetry.
Have you seen people on Facebook announcing their birthday but instead of gifts, are asking people to donate to a cause? I have too and I've been intrigued. I'm past the point where I want more stuff in my house. With that in mind, I'm considering doing the donation thing. I have several options of a cause in mind. One is the National Kidney Foundation, in memory of my mom. However, with the Corona, I know our local food banks are suffering. Which do you think would be a better cause? Even better, who do you donate to?
See below for cancellations and changed dates for my appearances.
Stay safe. Stay well.
Giveaways:
The St. Patrick's Day giveaway has had its winners chosen!!!! The grand prize winner was Traci Arnett. My first prize winner was Gerhart and the second prize winner was Dietwolf. All the winner's have been notified and I've sent my winners their prizes! Congratulations to all of you.
The spring giveaway, Spring Flings and Book Things, is now open. You can get to it here, on my Giveaways page. As soon as the winners are announced for the St. Patrick's giveaway, I'll let you know.
Where will I Be?
Payson Book Festival, July 18th at the Mazatzal Hotel and Casino, Payson AZ. This event is under consideration for cancellation. We'll know more in May

CokoCon 2020, September 4 – 7th, DoubleTree by Hilton Hotel Phoenix Tempe, 2100 S Tempe, AZ. This event hasn't been cancelled yet. I'll keep you posted.
Phoenix Fan Fusion, September 25th – 27th. This event has been postponed until the end of September. Note that the event is a day shorter, starting on Friday rather than Thursday. For people who have special Thursday passes and other special tickets, check out the Fan Fusion website for details on how those will be handled.
Pine Library, 6124 W. Randall Place, Pine AZ, Friends of the Library meeting, April 27th has been officially rescheduled. The new date for my appearance is October 26th, still at 1pm. So if you happen to be in Pine, AZ on that date, come on by. I'll have some books available for purchase.
Newsletter Sign Up:
Click here to sign up for my newsletter. I've put sign-up gifts on the regular and the SciFi/Fantasy and the Cozy Mystery newsletter sign-ups. That's right. If you sign up for my newsletter you get a free story from me. Be prepared for fun and contests! Click on the video link for a short video from me. Hear what I'm working on. Join my "A" Team to be the first to read my books and hear what new books are coming.
Don't forget to follow my blog, too. Different material goes in the blog as in the newsletter. You can share both, so spread the word!
Newest Releases: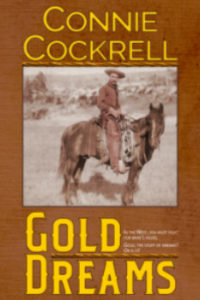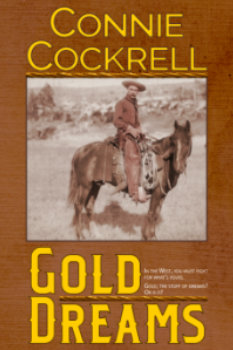 Gold Dreams released May 13th, 2019. It is up on Amazon, Apple, Barnes and Noble, Kobo, (Direct link doesn't work, copy the URL and paste it into your browser, or go directly to Kobo.com and search for Gold Dreams, Connie Cockrell), and Smashwords. The print version is available on Amazon. You can also see all my books on https://conniesrandomthoughts.com/my-books-and-other-published-work/. If you've read any of my books, please drop a short, honest, review on the site where you bought it or on Goodreads or BookBub. Your review is critical to help me promote the books to other readers. Thanks in advance.
Thank you for reading my blog. Like all of the other work I do as an author, it takes time and money. If you enjoy this Monday blog and the Friday free story and the recipe I put up on the 25th of every month, consider donating to https://www.paypal.me/ConniesRandomThought. I appreciate any donation to help support this blog.