Newest News:
I write this blog on Sunday for posting on Monday. So right now, I'm looking forward to going to a painting class in a couple of hours. I haven't done oil painting for decades and when a friend invited me to come along, I jumped at the chance. I think I'll enjoy a more physical and colorful method of being creative as a break from my daily writing. If it's any good at all, or maybe even if it isn't, I'll share a picture of the painting next week.
I think I've mentioned before that I'm working on the second story in my All About Bob Series. Over the course of last week, I changed the name of it from All About the Game to All About the Odds. I have to say I've written my main character, Bobbie, into quite a pickle. Let's see if I can get her out of it!
Did you know I have a Pinterest page? It's here: https://www.pinterest.com/conniecockrell/. I have a board for my books and stories and just Saturday, learned how to link my book pin to the Amazon buy page. I'm so excited about that! I don't have all of them linked yet, but soon. Anyway, I have lots of other boards on there, including one for Paleo recipes, so I hope you stop by.
Giveaways:
The Lovestruck Authors and Bloggers Valentine's Day giveaway has 32 authors giving away at least two prizes each and there's $100 in PayPal cash for the grand prize winner. This is a great way to find new to you authors, but it doesn't last long. It'll be over on Valentine's Day. Check out https://conniesrandomthoughts.com/giveaways-and-prizes/ and click on the Rafflecopter link to enter the contest. Books, ebooks, jewelry and more is being given away. You don't want to miss out.
Shout Out:
Hey, it's time to shout out to Joshua Robertson. Joshua Robertson is an award-winning author in epic, dark fantasy. You may recognize him as the dude whose dragons were said to destroy George R.R. Martin's and Christopher Paolini's dragons in a very biased Twitter poll. His first novel, Melkorka, was released in 2015, and he has been writing fantasy fiction like clockwork ever since. Known most for his Thrice Nine Legends Saga, Robertson enjoys an ever-expanding and extremely loyal following of readers. He currently lives in North Carolina with his better half and his horde of goblins.  You can find out more at: Newsletter
He's co-authored his newest book, Heshayol, with JC Boyd. J.C. lives in the Midwest with his wife and two dogs and has an M.A. in English Literature. The first novel in his world, Blood and Bile, was released in 2017. Before completing junior high, J.C. had received his first box set of Dungeons & Dragons and devoured J.R.R. Tolkien's The Lord of the Rings. Since, he has been heavily influenced by a myriad of fantasy authors, such as Weis and Hickman, Robert Jordan, and Ed Greenwood. You can find out more at: Amazon
Here's a bit about Heshayol.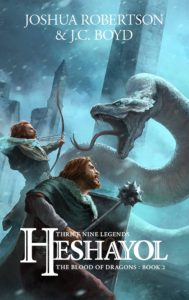 Over a millennium ago, at their father's command, Tyran and Drast sent the Horned God to the Netherworld in hopes of gaining everlasting life. Instead, they sparked a chain of events that led to the near destruction of the Ash Tree and the liberation of the old gods. Now, with the world waning, the two brothers are freed from Anaerfell to travel to the frozen realm of the dead and resurrect their enemy with hopes of restoring balance. Tyran and Drast journey between time and space with limitless magic at their fingertips to face demon legions, forsaken immortals, and the realization that the malevolence of their father is not yet done.
They knew killing a dragon wasn't going to be easy. Especially not one that was also a god. But they never expected to be punished so brutally, or for so long. Death is no escape when you've already slain the Horned God to the Netherworld.
Heshayol releases March 5th so get your Pre order for only $2.99 and for a limited time you can get the first book Anaerfell for only $.99.
Where Will I Be?
Check my website, https://conniesrandomthoughts.com/where-will-i-be/ for my next engagements.
The 20th Annual Women's Wellness Forum
​Saturday, April 28, 2018
I'm excited to say I'm booked for the Payson Women's Wellness Forum on April 28th, 2018. What's more healing that getting lost in a novel! I'll be there all day and you can buy, and I'll sign, any of my books. SciFi, Fantasy, Cozy Mystery and more. You can find tickets at https://www.mhafoundation.com/upcoming-events.html
Newsletter Sign Up:
Click here to sign up for my newsletter. I've put sign-up gifts on both the regular and the Brown Rain newsletter sign-ups. That's right. If you sign up for my newsletter you get a free story from me. Be prepared for fun and contests! Click on the video link for a short video from me. Hear what I'm working on. Join my "A" Team to be the first to read my books and hear what new books are coming.
Don't forget to follow my blog, too. Different material goes in the blog as in the newsletter. You can share both, so spread the word!
Newest Book Release:
Tested released January 31st and I'm pretty excited about it. You can buy it and my other books at: Apple, Amazon, Barnes and Noble, Kobo, and Smashwords, today! You can also see all my books on https://conniesrandomthoughts.com/my-books-and-other-published-work/. If you've read any of my books, please drop a short, honest, review on the site where you bought it or on Goodreads. It's critical to help me promote the books to other readers. Thanks in advance.